About me
I am a postdoc working at the Institute for Computational Cosmology at Durham University, where I also studied for my PhD. As a member of the Extragalactic Astronomy and Cosmology group I work primarily with Professor Carlos Frenk and Professor Shaun Cole.
Research
The subject of my PhD thesis was the numerical modelling of galaxy formation using Smooth Particle Hydrodynamics (SPH) simulations and semi-analytic modelling techniques. More recently I have been heavily involved in the Millennium Simulation project, and in particular the application of semi-analytic galaxy formation models to the simulation.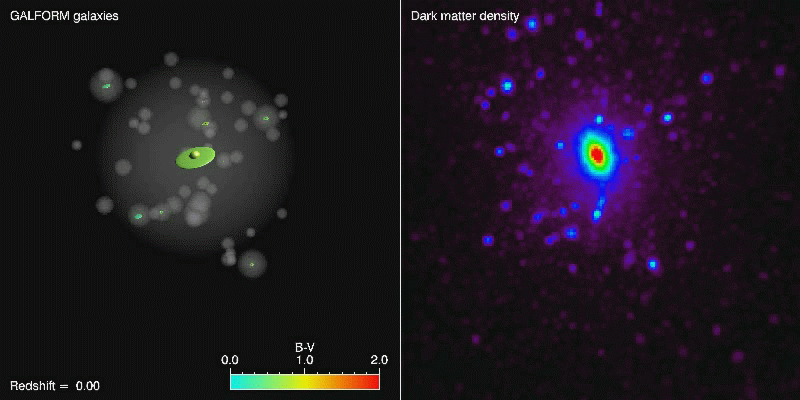 This is a movie (12Mb .mpg) showing the formation of a galaxy as predicted by the Galform semi-analytic model. The left pale shows the semi-analytic galaxy and its satellites colour coded by B-V colour. The right panel shows the density of dark matter.
This movie (3.5Mb .mpg) shows the dark matter distribution in a 50Mpc/h cube cut from the Millennium simulation. This is only one thousandth of the total simulation volume.
Email Address:

J.C.Helly@dur.ac.uk

Work Address:

Room OC312, Institute for Computational Cosmology,
Department of Physics,
University of Durham,
Science Laboratories,
South Road,
Durham,
DH1 3LE

Daytime Telephone:

(0191) 3343786