Home
Oral Programme
Poster Programme
Participants
Abstracts
Talk PDFs
Poster PDFs
Video Consent Form
About Durham
Conference Venue
Accommodation
Restaurant List
Travel Information
Conference Poster
Key Dates:
Conference:
18-22 July 2011
Contact:
gal2011@durham.ac.uk


Supported in part by the European
&nbsp Commission through CosmoComp
&nbsp (PITN-GA-2009-238356)
Durham Astronomy Links:
• Extragalactic Group
• Institute for Computational
&nbsp&nbsp&nbsp Cosmology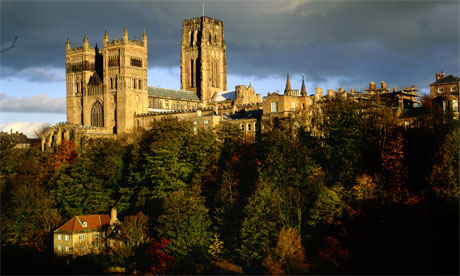 Durham Cathedral
About Durham

Durham is a small city on the banks of the river Wear in North East England, renowned for its magnificent medieval castle and cathedral (a UNESCO World Heritage Site) as well as its world-class University.




Getting to Durham

Durham is easily accessible by train or car from all major cities in the UK, and is close to Newcastle and Durham Tees Valley airports. Detailed travel directions are available here.


Restaurants

For its size, Durham contains a large number of restaurants offering a broad range of cuisines. A listing of a few of our favourite restaurants in and around the city centre is available here.


Campus map

Below is a map of Durham indicating all of the University buildings. Click the map for a larger version. For a PDF version click here.

Links to the full listing of the University buildings and more detailed maps are available here.